This weekend was pretty fun. Saturday I cleaned my house cause my Mom came to visit for the weekend. Thank God she didn't complain that my house was messy. My Mom is a perfectionist and a clean freak so even if my house is clean, it's messy to her. The boys were pretty excited to see Grandma cause she always bring goodies. Sometime this summer or sooner my Mom will be moving up and living with me. Everyone lives up here and ever since my Father passed away she's been pretty lonely. It will be a good move for her but I don't know how it will be for us. I think we will be able to survive, I hope. hehe
My Sister, Cousin, and I went to go watch Confessions of a Shopaholic which was pretty good. There's something about Hugh Dancy that made him pretty Hot in the movie. Not sure what it is but he's not bad. Claire Danes is lucky to be engaged to this guy.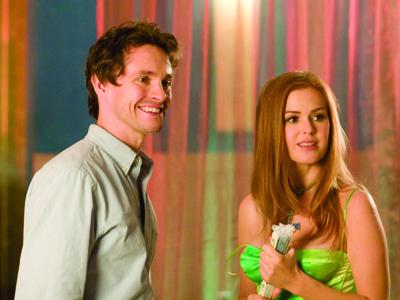 After the movie Bobz, Mya, Urk, and Muffin came over to hang out before we head to Monte Carlo. Bowling was pretty fun because we were practically buzzing. Mona was the only one that was sober. I'm pretty sure the other bowlers thought we were to loud but who cares cause we were having fun. As drunk as we were, we won about $30.
Sunday pretty much just did laundry, grocery shopping and made a Diaper cake with Ellen. My Friend Ratana & her husband Tristan just had a baby girl. Ellen helped me out with it so we can practice if any of our other friends have a baby soon. hehe I'll take a picture of it later and post it up.
So Muffin and I will be having a Twilight party when the movie comes out. So any of my friends who read the book and is obsessed as we are can join us on the 21st of March. Not sure when we will do it but I'll keep you posted. YAY Twilight theme party!! Oh I can't leave without a picture of Robert Pattinson aka Edward Cullens.